EIP IN THE NEWS
UPCOMING EVENTS
PAST NEWS AND EVENTS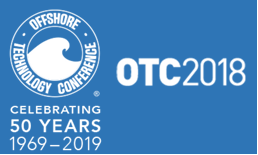 30 APRIL–3 MAY 2018     ///     HOUSTON, TEXAS, USA     ///     NRG PARK
The Offshore Technology Conference (OTC) is where the world's energy professionals meet to exchange ideas and opinions to advance scientific and technical knowledge for offshore resources and environmental matters. OTC is the largest global event for the oil and gas sector featuring approximately 2,000 exhibitors and attendees from across the globe.
EIP team's 4 abstracts submitted to OTC 2018 have all been accepted.
Control number: 18OTC-P-3592-OTC, "A Multi-Disciplinary Approach to Select the Optimum Infill-Well Location for efficient Reservoir Management of a Mature Field", S. Bose, A. Alzahabi, S. Balasubramanian, P. Chen, G.C. Thakur
Control number; 18OTC-P-3564-OTC, "Recent Advances in Enhanced Oil Recovery Technologies for Unconventional Oil Reservoirs" S. Balasubramanian, P. Chen, S. Bose, A. Alzahabi, G.C. Thakur
Paper Number: OTC-29008-MS, "Hybrid Grouping of Wells Combining Geological Compartmentalization and Surface Facilities", Sushanta Bose, Sriram Balasubramanian, Ahmed Alzahabi, Peila Chen and Ganesh Thakur
Paper Number: OTC-28726-MS, "An Integrated Workflow of IOR/EOR Assessment in Oil Reservoirs" Peila Chen, Sriram Balasubramanian, Sushanta Bose, Ahmed Alzahabi and Ganesh Thakur

Control ID: 2812871
Presentation Title: A Data-Driven Workflow for Production Optimization and Efficient Reservoir Management Using a Multi-disciplinary Approach
Session Title: Session 15: Integrated Case Studies III: Geomechanics & Production
Session Date: March 6, 2018
Presentation Time: 4:30 PM to 4:50 PM
INVITED TALKS
Date: Nov. 16th, 2018
Conference: The Department of Petroleum Engineering Seminar Series (Univ. of Houston)
Speaker: Dr. Ganesh Thakur
Topic: CO2 for EOR: Historical Perspectives, Current Technology Status and Technological Challenges (Discussion of a carbon capture and sequestration pilot project)
Date: Oct. 16th-17th, 2018
Conference: Adapting to the 21st Century Innovation Environment
Speaker: Dr. Ganesh Thakur
Topic: Industry Adaptations in a Global Innovation Economy
http://sites.nationalacademies.org/PGA/guirr/PGA_189399#.XFJbDyKE_hM.email
Date: Oct. 4-6th, 2017
Conference: 3rd Biennial CO2 for EOR as CCUS Conference
Venue: Rice University, BRC-Auditorium, 6500 Main St., Houston, TX, USA
Topic: CO2 EOR: Historical Perspectives and Current Technology Status
Hosted by: NorTex Petroleum Cluster and Petroleum Research School of Norway
Co-hosted by: Rice University and Royal Norwegian Consulate General in Houston
Date: Sep 21, 2017
2017 NSF Minority Faculty Development Workshop –
Engineering a World of Difference:  Academic and Industry Connections
Topic: A Career Worthy of the National Academy of Engineering
Speaker: Dr. Ganesh Thakur
Date: Sep 15, 2017
The Center for Thermo-Fluid Mechanics (CTFM) Weekly Seminar Series
Topic: CO2 EOR: Next Frontier of Unconventional Oil and Gas Resources
Speaker: Dr. Ganesh Thakur
Picture-1                   Picture-2                 Picture-3 
The seminar presentation was very well received. See how the professors and students are saying about this presentation:
Your attendance was at least twice as large as the usual one – "star power"!
After your talk, I went into my students' office and I found them all excitedly commenting on your presentation. We need more of this!
Date: April13, 2017
SPE Gulf Coast Section EOR Forum
Location: STUDENT CENTER SOUTH, UNIVERSITY OF HOUSTON MAIN CAMPUS, HOUSTON, TX
Speaker: Dr. Ganesh Thakur
The EOR Forum is intended to bring together seasoned EOR practitioners with EOR newcomers to share experiences, new ideas, and lessons learned.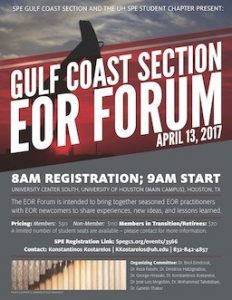 ARTICLES
VIDEO