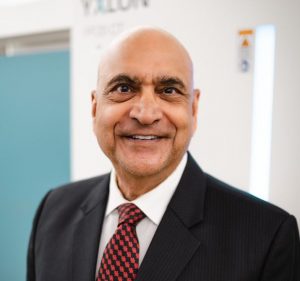 GANESH C. THAKUR, PhD, MBA, NAE
Director of Energy Industry Partnerships &
Distinguished Professor of Petroleum Engineering
World-recognized Leader in Reservoir Engineering and Management, Leading Authority in the Fundamentals and Applications of Integrated Waterflood Management as Applied to Secondary Recovery of Oil, EOR of Conventional and Unconventional Reservoirs
Established leader in the interdisciplinary practice of RM, waterflood, CO2 flooding, and CCUS.

Expert in the development of complex oil and gas projects.

Expert in the design and operation of RM programs and mentoring technical professionals.

Served as the SPE International President in 2012.

Member of the National Academy of Engineering and TAMEST (The Academy of Medicine, Engineering and Science of Texas), and Board Member and Treasurer of TAMEST. 

Fellow of the National Academy of Inventors (NAI)

Several decades of technical, operational, and administrative experience, and a unique combination of other skills.

Impressive list of publications, global teaching engagements, serving as expert witness on world-class projects, and advising international companies.




---
CV
Download Full CV (updates April 25th, 2022)
 EDUCATIONAL QUALIFICATIONS

 RESEARCH AREAS

CO2 – EOR Conventional & Unconventional Reservoirs
Waterflooding / IOR – Conventional & Unconventional Reservoirs
Integrated Reservoir Management – Conventional & Unconventional Reservoirs

 UH ACADEMIC COURSES

Integrated Petroleum Reservoir Management

Work in multi-disciplinary teams (MDT)
Utilize real field data
Develop skills needed to work in the energy industry

Waterflooding

Theoretical and practical aspects
Design and implementation
Case studies

Gas / CO2 – EOR

Theoretical and practical aspects
Pilot and field scale implementation
Conventional and unconventional reservoirs
Case studies
RESEARCH
Dr. Ganesh Thakur is Distinguished Professor of Petroleum Engineering in the Cullen College of Engineering and Director for Energy Industry Partnerships at UH.  He is President and Global Advisor at Thakur Services, Inc. and is a member of the National Academy of Engineering and National Academy of Inventors.   Dr. Thakur is also a recipient of the Governor's University Research Initiative (GURI) grant where he is helping lead the nation in cutting-edge research and further elevate future generations of students and faculty at Texas universities while spearheading new breakthroughs in the fields of science, technology, engineering, mathematics and medicine, all of which are crucial to the long-term success of the Texas economy.
Dr. Thakur's current research interests include a multi-disciplinary, innovative and integrated approaches to the recovery of oil and gas through research pertaining to CO2 – EOR, waterflooding / IOR, and integrated reservoir management for conventional & unconventional reservoirs, and CCUS.
He has published over 100 journal articles and conference papers and holds five (5) patents.
---
AWARDS AND HONORS
President, SPE International Foundation, 2019-21
Elected as a Fellow of the National Academy of Inventor (NAI) – USA, 2021
Legion of Honor Award from SPE (Society of Petroleum Engineers) International for 50 years of continuous and distinguished service, 2020
Honorary Membership of SPE International (highest honor awarded to only 0.1% of the Society's total membership), 2019
Treasurer, SPE International Foundation, 2018
Board of Director and Financial Advisory Committee, The Academy of Medicine, Engineering, and Science of Texas (TAMEST)
Received Governor of Texas University Research Initiative (GURI) Grant of $3 million for developing cutting edge technology and serving as economic catalysts to the Texas economy. As a companion of this grant, University of Houston matches dollar for dollar for $3 million also – 2016.
Chairman, IIT (Indian School of Mines) Alumni Association of North America (ISMAANA) 2014 to date
Elected as a Member of the National Academy of Engineering (NAE) – USA, 2016
Indian School of Mines Distinguished Alumni Award, 2016
Elected to represent SPE Intl. on the National Petroleum Council (NPC), US Department of Energy, 2013-14
Pennsylvania State University's Outstanding Alumni Achievement Award, College of Earth and Mineral Sciences, 2006
SPE Intl. Distinguished Member
Reservoir Description and Dynamics Award, Society of Petroleum Engineers Intl., 2005
Chevron Corp. Fellows Award, 2001 (awarded to only a handful number of employees achieving technical excellence out of about 50,000 employees)
Orange County, California's Outstanding Engineer of the Year Award, Orange County, 1994